Családok fesztiválélménye – két családbarát fesztivál elemzése
Kulcsszavak:
fesztivál, élmény, emlékezetesség, családi turizmus
Absztrakt
A fesztiválokat sok esetben a családbarát szabadidős tevékenységek közé sorolják, ugyanakkor ki­fejezetten erre a célcsoportra vonatkozóan a korábbiakban még nem végeztek kutatást a feszti­vállátogatások tekintetében. Tanulmányunkban bemutatjuk, hogy a szakirodalom alapján milyen dimenziói vannak az élménynek, és értelmezzük azt a fesztiválokra vonatkozóan. Primer kutatást végeztünk és azt vizsgáltuk, hogy ezek a dimenziók milyen mértékben jelennek meg két magyaror­szági családi fesztiválnál, illetve hatással vannak-e a fesztivál emlékezetességére. A kutatás alapján megállapítható, hogy mindkét fesztivál esetében a szórakozás élménye hat legerősebben az emléke­zetességre.
Hivatkozások
AKYILDIZ, M. – ARGAN, M. (2010): Factors of Leisure Experience: a study of Turkish Festival Participant. Studies in Physical Culture and Tourism. 17(4). pp. 385–389.
ÁSVÁNYI, K. – JÁSZBERÉNYI, M. (2017). The role of rural cities' festivals in the development of regions. DETUROPE –The Central European Journal of Regional Development and Tourism. 9(3). pp. 177–187.
COLE, S. – CHANCELLOR, H. (2009): Examining the festival attributes that impact visitor experience, satisfaction, and re-visit intention. Journal of Vacation Marketing. 15(4). pp. 323–333.
CROMPTON, J. – McKAY, S. (1997): Motives of visitors attending festival events. Annals of Tourism Research. 24(2). pp. 425–439.
FOUNTAIN, J. – SCHANZEL, H. – STEWART, E. – KORNER, N. (2015): Family experiences of visitor attractions in New Zealand: differing opportunities for 'family time' and 'own time'. Annals of Leisure Research. 18(3). pp. 342–325.
GETZ, D. (1997): Event Management and Event Tourism. Cognizant Communications Corporation, New York.
GETZ, D. (2007): Event Studies: Theory, Research and Policy for Planned Events. Taylor & Francis, Oxford.
GRAM, M. (2005): Family Holidays. A qualitative Analysis of Family Holiday Experiences. Scandinavian Journal of Hospitality and Tourism. 5(1). pp. 2–22.
HABIBAH, A. – HAMZAH, J. – BUANG, A. C. – MUSHRIFAH, I. – SELVADURAI, S. –NOR GHANI, M. N. (2015): An Appraisal of Family-Friendly Tourism in Malaysia. International Business Management. 9(6). pp. 1523–1534.
HALLMAN, B. C. – BENBOW, M. P. (2007): Family leisure, family photography and zoos exploring the emotional geographies of families. Social and Cultural Geography. 8(6). pp. 871–888.
HUANG, J. Z. – LI, M. – CAI, L. A. (2010): A model of community-based festival image. International Journal of Hospitality Management.29(2). pp. 254–260.
INKEI P. (2010): A magyarországi fesztiválok minősítési rendszere. Magyar Fesztivál Regisztrációs és Minősítési Program, Budapest.
JÁSZBERÉNYI M. – ZÁTORI A. – ÁSVÁNYI K. (2017): Fesztiválturizmus. Akadémia Kiadó, Budapest.
JOHNS, N. – GYIMÓTHY, SZ. (2002): Mythologies of a theme park: An icon of modern family life. Journal of Vacation Marketing. 8(4). pp. 320–331.
KIM, K. – UYSAL, M. – CHEN, J. (2002): Festival visitor motivation from the organizers' point of v iew. Event Management. 7(2). pp. 127–134.
KIM, S. S. – CHOI, S. – AGRUSA, J. – WANG, K-C. – KIM, Y. (2010): The role of family decision makers in festival tourism. International Journal of Hospitality Management. 29(2). pp. 308–318.
KULCSÁR N. (2015): A fogyasztói érték és az élmény kontextusa a turisztikai szakirodalomban. Vezetéstudomány. 46(3). pp. 18–25.
LEE, C. – LEE, Y. – WICKS, B. (2004): Segmentation of festival motivation by nationality and satisfaction. Tourism Management. 25(1). pp. 61–70.
LEE, Y. – LEE, C. – LEE, S. – BABIN, B. (2008): Festivalscapes and patrons' emotions, satisfaction, and loyalty". Journal of Business Research. 61(1). pp. 56–64.
MANTHIOU, A. – LEE, S. A. – TANG, L. R. – CHIANG, L. (2014): The experience economy approach to festival marketing: vivid memory and attendee loyalty. Journal of Services Marketing. 28(1). pp. 22–35.
MEHMETOGLU, M. – ENGEN, M. (2012): Pine and Gilmore's concept of experience economy and its dimensions: an empirical examination in tourism. Journal of Quality Assurance in Hospitality & Tourism. 12(4). pp. 237–255.
MICHALKÓ G. – RÁTZ T. (2005): A kulturális turizmus élménygazdaságtani szempontjai. In: Enyedi Gy. – Keresztély K. (szerk.): A magyar városok kulturális gazdasága. MTA Társadalomkutató Központ, Budapest. pp. 123–141.
MORGAN, M. (2009): What makes a good festival? Understanding the event experience. Event Management. 12(2). pp. 81–93.
OTTO, J. E. – RITCHIE, J. R. (1996): The service experience in tourism. Tourism Management. 17(3). pp. 16 5 –1 74.
PARK, M. – OH, H. – PARK, J. (2010): Measuring the experience economy of Film Festival participants. International Journal of Tourism Sciences. 10(2). pp. 35–54.
PINE, B. – GILMORE, J. (1999): The Experience Economy: Work is a Theatre and Every Business a Stage. Harvard, Business School Press. Boston, MA.
PINE, B. J. – GILMORE, J. H. (1998): Welcome to the experience economy. Harvard Business Review.76(6). pp. 97–105.
PRENTICE, R. – ANDERSEN, V. (2003): Festival as creative destination. Annals of Tourism Research. 30(1). pp. 7–30.
PRENTICE, R. (2004): Tourist motivation and typologies. In: Lew, A. – Ha, M. – Williams, A. (eds): A Companion to Tourism. Blackwell. Oxford. pp. 261–279.
RITCHIE, B. W. – CARR, N. – COOPER, C. (2003): Managing Educational Tourism. Channel View Publications Clevedon.
RIVERA, M. – SEMRAD, K. J. – CROES, R. (2015): The five E's in festival experience in the context of Gen Y: Evidence from a small island destination. Revista Española de Investigación de Marketing ESIC. 19(2). pp. 95–106.
SCHANZEL, H. A. – SMITH, K. A. (2014): The socialization of families away from home: Group dynamics and family functioning on hol id ay. Leisure Sciences. 36(2). pp. 126–143.
SEMRAD, K. J. – RIVERA, M. (2016): Advancing the 5E's in festival experience for the Gen Y framework in the context of eWOM. Journal of Destination Marketing & Management. 7. pp. 58–67.
SMITH, M. (2009): Fesztiválok és turizmus: lehetőségek és konfliktusok. Turizmus Bulletin. 13(3). pp. 23–27.
SZABÓ J. Z. (2012): A turisztikai fesztiválok látogató-összetétele. In: Juhász E. – Chrappán M. (szerk.): Tanulás és művelődés. Debreceni Egyetem, Debrecen. pp. 535–540.
TUNG, V. S. – RITCHIE, J. B. (2011): Investigating the memorable experiences of the senior travel market: an examination of the reminiscence bump. Journal of Travel and Tourism Marketing. 28(3). pp. 331–343.
UYSAL, M. – GAHAN, L. – MARTIN, B. (1993): An examination of event motivations: a case st udy. Festival Management and Event Tourism. 1(1). pp. 5–10.
VAN ZYL, C. – BOTHA, C. (2003): Motivational factors of local residents to attend the Aardklop National Arts Festival. Event Management. 8(4). pp. 213–222.
ZÁTORI A. (2014): Élményszemlélet a turizmusban: A turisztikai élményteremtés koncepciói. Turizmus Bulletin. 16(2). pp. 51–60.
Internetes források
IPK (2008): European Travel Monitor 2008. IPK International, Munich. https://www.ipkin-ternational.com/en/world-travel-monitor, Letöltve: 2017. november 20.
KÜRTŐSKALÁCS FESZTIVÁL (2017): Vitéz Kürtős. http://www.kurtoskalacsfesztival.hu/vitez-kurtos, Letöltve: 2017. november 20.
MFSZ (MAGYAR FESZTIVÁL SZÖVETSÉG) (2014): Bemutatkozik a Magyar Fesztivál Szövetség."Szakmai Napok 2014" http://slideplayer.hu/slide/1929036/, Letöltve: 2017. november 20.
SKANZEN (2017): Szent Márton Újborfesztivál és Libator. http://skanzen.hu/hu/latogatas/progra-mok/programok-2017-ben, Letöltve: 2017. 11.20.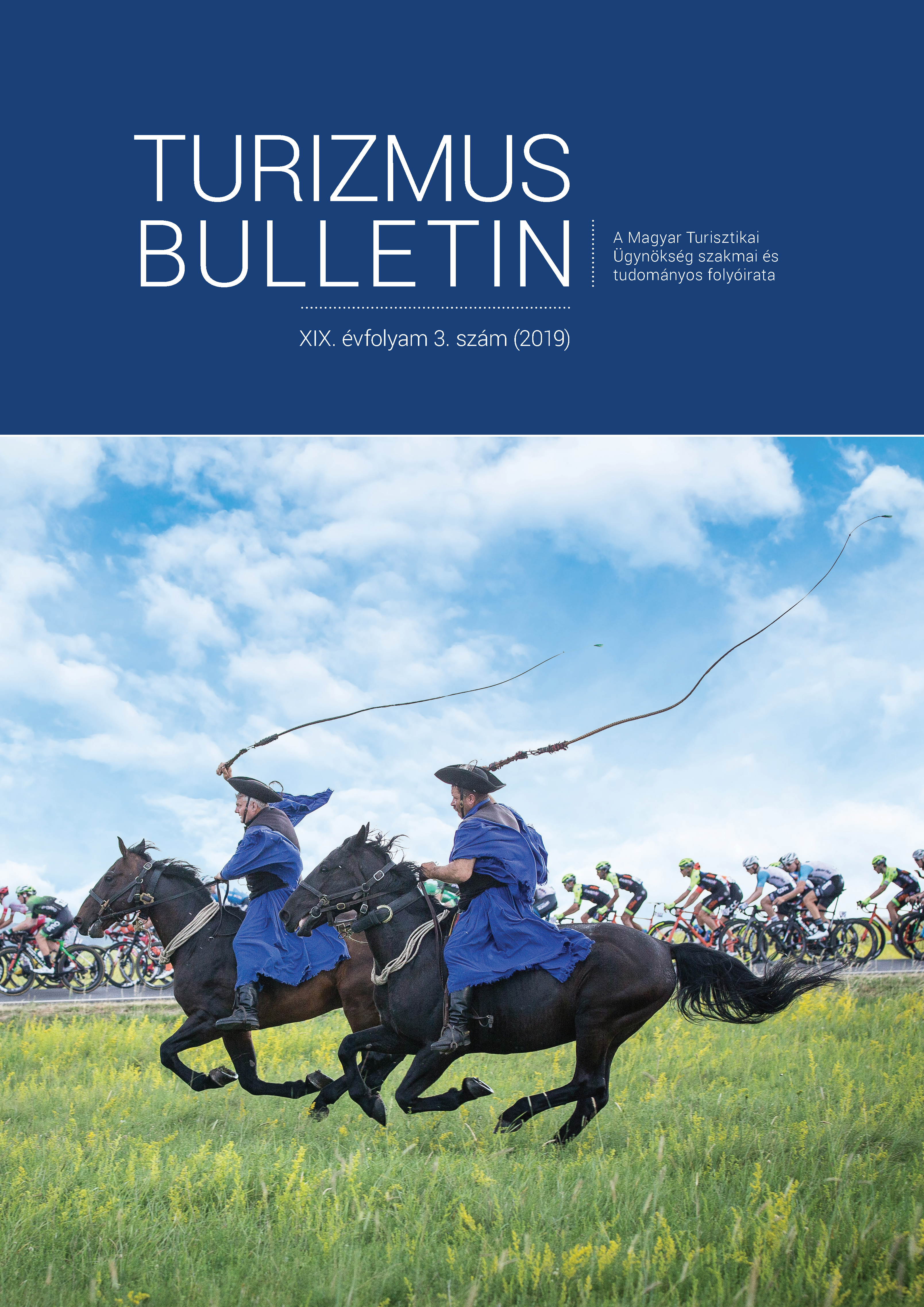 ##submission.downloads##
Hogyan kell idézni
Ásványi, K., Mitev, A. Z., Jászberényi, M., & Mert, M. (2019). Családok fesztiválélménye – két családbarát fesztivál elemzése. Turizmus Bulletin, 19(3), 30–37. https://doi.org/10.14267/TURBULL.2019v19n3.4
Rovat
Lektorált tanulmányok