Hogyan utazzunk a COVID járvány után?
Kulcsszavak:
COVID-19, utazási tanácsadás, védőoltások, légi utazás, utazási biztosítás
Absztrakt
A COVID-19 járvány lecsengésével egyidejűleg a nemzetközi utazások is elkezdődnek majd. Azonban sem az utazás megszokott formái, sem az utazók utazással kapcsolatos attitűdjei nem lesznek ugyanazok, mint járvány előtt. Mivel mindenkinek a biztonságos utazás az érdeke, a járványos megbetegedések prevenciója elsődleges fontosságúvá válik. Ennek egyetlen módja az utazás előtti egészségügyi felkészítés. Az orvosi tanácsadással az utazással összefüggő betegségek nagy része megelőzhető. A tanácsadás a COVID járvány után ki kell, hogy terjedjen a vírusfertőzés megelőzésének módjaira, illetve a biztonsági rendszabályok ismertetésére is. Azonban a biztonságos utazás és utaztatás biztosítása nem csak orvosi feladat. A megelőző intézkedések az utazási iparág minden szereplőjének ismeretanyagát kell, hogy képezzék. Ezeket az új ismereteket foglalja össze a tanulmány.
Hivatkozások
BOUROUIBA, L. (2020): Turbulent gas clouds and respiratory pathogen emissions: Potential implications for reducing transmission of COVID-19. JAMA. 323(18). pp. 1837–1838. doi: 10.1001/jama.2020.4756
FELKAI P. – PARAGH GY. (szerk.) (2011): Az utazásorvostan tankönyve. Medicina Könyvkiadó.
FELKAI P. (2018): SARS: a szuperszonikus betegségek korának kezdete – in memoriam Carlo Urbani (1956–2003). Orvosi Hetilap. 159(52). pp. 2226–2229. https://doi.org/10.1556/650.2018.HO2616
GUY, J. S. – BRESLIN, J. J. – BREUHAUS, B. – VIVRETTE, S. – SMITH, L. G. (2000): Characterization of a coronavirus isolated from a diarrheic foal. Journal of Clinical Microbiology. 38(12). pp. 4523–4526. https://doi.org/10.1128/JCM.38.12.4523-4526.2000
HAMER, D. H. – CONNOR, B.A. (2004): Travel health knowledge, attitudes and practices among United States travelers. Journal of Travel Medicine. 11(1). pp 23–26. https://doi.org/10.2310/7060.2004.13577
JEFFERSON, T. – FOXLEE, R. – DEL MAR, C. – DOOLEY, L. – FERRONI, E. – HEWAK, B. – PRABHALA, A. – NAIR, S. – RIVETTI, A. (2008): Physical interventions to interrupt or reduce the spread of respiratory viruses: systematic review. BMJ. 336(7635). pp. 77–80. doi: 10.1136/bmj.39393.510347.BE
KANG, S-J. – JUNG, S. I. (2020): Age-related morbidity and mortality among patients with COVID-19. Infect Chemother. 52(2). pp. 154–164. doi: 10.3947/ic.2020.52.2.154
LENGYEL, I. – FELKAI, P. (2018): Pre-travel advice and patient education of Hungarian travellers. Orvosi Hetilap. 159(9). pp. 357–362. doi: 10.1556/650.2018.30987
LUBY, S. P. – AGBOATWALLA, M. – FEIKIN, D. R. – PAINTER, J. – BILLHIMER, W. –ALTAF, A. – HOEKSTRA, R. M. (2005): Effect of hand washing on child health: a randomized controlled trial. Lancet. 366(9481). pp. 225– 233. doi: 10.1016/S0140-6736(05)66912-7
LUDVIGSSON, J. F. (2020): Systematic review of COVID-19 in children shows milder cases and a better prognosis than adults. Acta Paediatrica. 109(6). pp. 1088–1095. DOI: 10.1111/apa.15270
OLSEN, S. J. – CHANG, H-L. – CHEUNG, T. Y-Y. – TANG, A. F-Y. – FISK, T. L. – OOI, S. P-L. – KUO, H-W. – JIANG, D. D-S. – CHEN, K-T. – LANDO, J. – HSU, K-H. – CHEN, T-J. – DOWELL, S. F. (2003): Transmission of severe acute respiratory syndrome on aircraft. The New England Journal of Medicine. 349(25). pp. 2416–2422. doi: 10.1056/NEJMoa031349
SCHULTZ, M. – FUCHTE, J. (2020): Evaluation of aircraft boarding scenarios considering reduced transmissions risks. Sustainability. 12(13): 5329. https://doi.org/10.3390/su12135329
TULADHAR, E. – HAZELEGER, W. C. – KOOPMANS, M. – ZWIETERING, M. H. – DUIZER, E. – BEUMER, R. R. (2015): Reducing Viral Contamination From Finger Pads: Handwashing Is More Effective Than Alcohol-Based Hand Disinfectants. The Journal of Hospital Infection. 90(3). pp. 226–234. doi: 10.1016/j.jhin.2015.02.019
YANG, J. – ZHENG, Y. – GOU, X. – PU, K. – CHEN, Z. – GUO, Q. – JI, R. – WANG, H. – WANG, Y. – ZHOU, Y. (2020): Prevalence of comorbidities in the novel Wuhan coronavirus (COVID-19) infection: a systematic review and meta-analysis. International Journal of Infectious Diseases. 94. pp. 91–95. https://doi.org/10.1016/j.ijid.2020.03.017
Internetes források
CDC (CENTERS FOR DISEASE CONTROL AND PREVENTION) (2019): Food and Coronavirus Disease 2019. https://www.cdc.gov/coronavirus/2019-ncov/daily-life-coping/food-and-COVID-19.html, Letöltve: 2020. június 23.
IATA (INTERNATIONAL AIR TRANSPORT ASSOCIATION) (2020a): IATA Updates COVID-19 Financial Impacts – Relief Measures Needed. https://www.iata.org/en/pressroom/pr/2020-03-05-01, Letöltve: 2020. június 23.
IATA (INTERNATIONAL AIR TRANSPORT ASSOCIATION) (2020b): IATA Calls for Passenger Face Covering and Crew Masks. Press release: 39. https://www.iata.org/en/pressroom/pr/2020-05-05-01/, Letöltve: 2020. augusztus 2.
OECD (ORGANISATION FOR ECONOMIC CO-OPERATION AND DEVELOPMENT) (2020a): Coronavirus pandemic is an unprecedented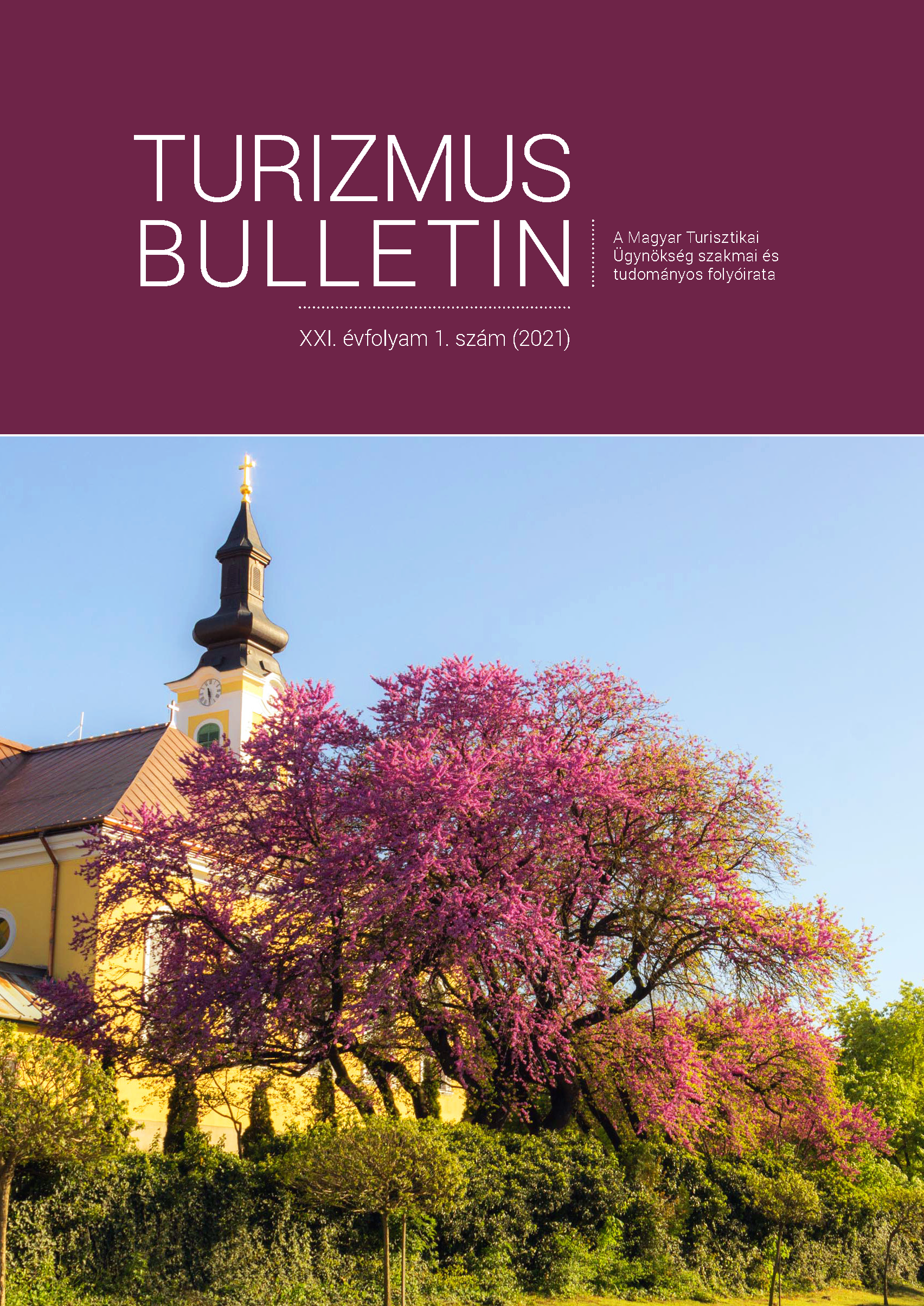 ##submission.downloads##
Hogyan kell idézni
Felkai, P. (2021). Hogyan utazzunk a COVID járvány után?. Turizmus Bulletin, 21(1), 44–48. https://doi.org/10.14267/TURBULL.2021v21n1.5